EQUINE HOCK & JOINT FORMULAS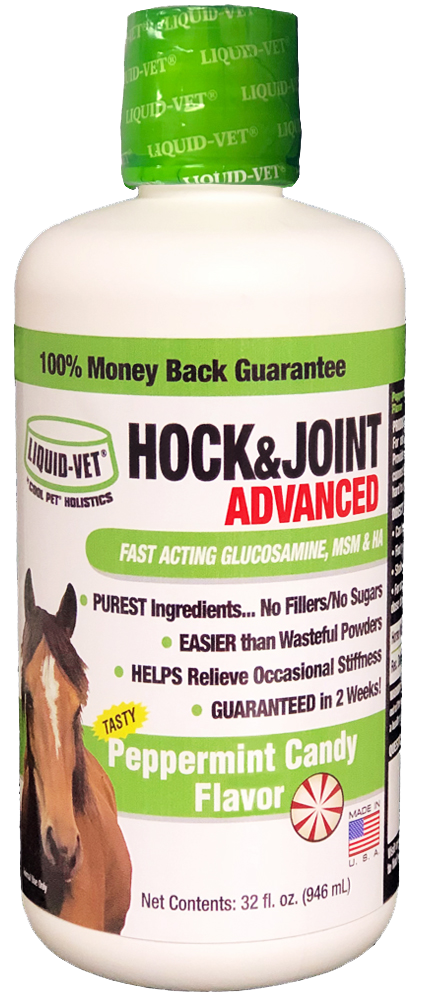 Liquid-Vet Equine Hock & Joint Formulas contain our highest levels of glucosamine, MSM, hyaluronic acid, and chondroitin in a single dose and are TASTIER, EASIER TO USE, and FASTER than wasteful powders or other forms. Liquid-Vet Equine Formulas are available in a peppermint candy flavor developed especially for your equine companion.
Simply dose during mealtime once a day with NO mixing required. It's that easy!
Plus, Liquid-Vet Equine Hock & Joint Formulas are GUARANTEED in 2 WEEKS or YOUR MONEY BACK! And how about safety? Liquid-Vet is manufactured at our own plant located in the USA, using materials only from our qualified USA based suppliers.
Help Your Horse Relieve Occasional Stiffness in as Little as 2 Weeks or Your Money Back
Glucosamine, Chondroitin, MSM, and Hyaluronic Acid…No Fillers or Sugars!
Tastier, Easier & Faster than Wasteful Powders
Available in a Delicious Peppermint Candy Flavor That Tastes Like a Treat
100% Made in the USA
Directions for Use:
For horses 500 lbs. and under, dose 1 capful. For horses 500lbs. and over, dose 2 capfuls.
Shake thoroughly and then dose the recommended daily oral dosage during mealtime.
For max freshness, refrigerate after use and use the recommended dose daily until bottle is empty.
Ingredients:
Active Ingredients: Glucosa-Vet – A proprietary blend of Glucosamine, PLUS Chondroitin, MSM, and Hyaluronic Acid
Inactive Ingredients: Benzoic Acid, Citric Acid, Purified Water, Peppermint Extract