K9 KIDNEY & BLADDER FORMULAS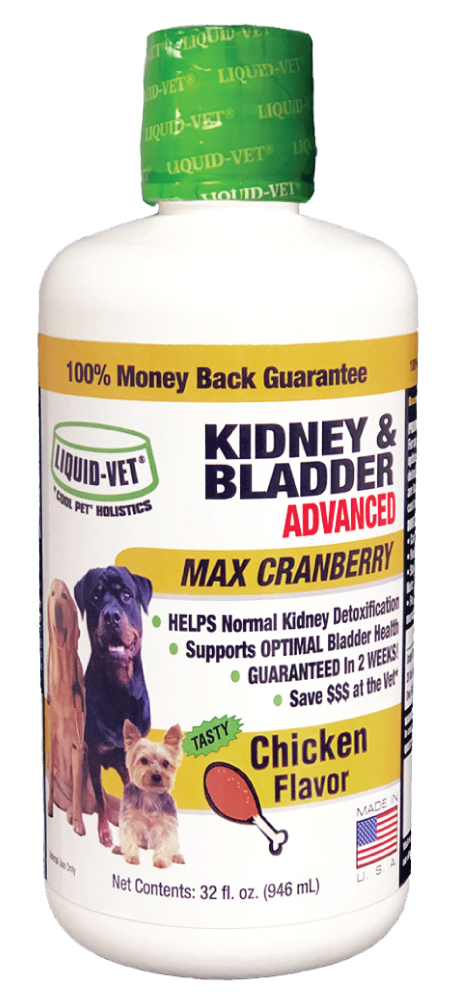 Liquid-Vet® K9 Kidney & Bladder Formulas contain high levels of glucosamine, d-mannose, electrolytes, AND cranberry extract in a single dose and are TASTIER, EASIER TO USE, and FASTER than the pill, powder, or chewable form supplements. Liquid-Vet® K9 Formulas are the only products available in a choice of natural flavors for picky pets or those pets that may have allergies to specific proteins.
Simply dose during mealtime once a day with no mixing required. It's that easy!
Plus, Liquid-Vet® K9 Kidney & Bladder Formulas are GUARANTEED in 2 WEEKS or YOUR MONEY BACK! And how about safety? Liquid-Vet® is manufactured at our own plant located in the USA, using materials only from our qualified USA based suppliers.
HELPS Normal Kidney Detoxification
Supports OPTIMAL Bladder Health & Control
Electrolytes PLUS Glucosamine to Balance Potassium Levels AND Protect Urinary Tract
Tastier, Easier, & Faster to Give than Pills, Powders, or Chews
TASTY Flavors Dogs Crave…Available in Chicken, Pot Roast, Bacon, & Allergy-Friendly Unflavored
Directions for Use:
For dogs under 20 lbs., dose 1/2 capful. For dogs 20 – 50 lbs., dose 1 capful. For dogs over 50 lbs., dose 1 1/2 capfuls.
Shake thoroughly and then dose the recommended daily oral dosage during mealtime.
For max freshness, refrigerate after use and use the recommended dose daily until bottle is empty.
If using along with another one of our formulas (i.e. Teeth & Gums, Hip & Joint, or Itch & Allergy), we suggest you split between AM and PM feedings to avoid any stomach upset.
Ingredients:
Active Ingredients Include 857 mg Renal-Vet® – A proprietary blend of Cranberry Extract, Glucosamine, D-Mannose, Potassium Citrate, & Sodium Citrate
Inactive Ingredients Include Benzoic Acid, Citric Acid, Dextrose, Fructose, Purified Water, Flavor (Chicken, Pot Roast, or Bacon), & Sodium Chloride
Cranberry Extract: May be effective with controlling UTIs.
* www.ncbi.nlm.nih.gov/pmc/articles/PMC3823508
D-Mannose: May help to flush "bad" bacteria out of your pet's urinary system.
* nasc.cc/pet-university/
Glucosamine: May help keep the lining of the urinary tract healthy and strong.
* nasc.cc/pet-university/
Potassium Citrate: May reduce the occurrence of kidney stones.
* https://www.ncbi.nlm.nih.gov/pmc/articles/PMC2974409/
Sodium Citrate: May support damaged kidney health.
* https://www.ncbi.nlm.nih.gov/pmc/articles/PMC4248587/
*At this time, we cannot ship to Canada. If your local retailer is out of stock or if you are unsure where to purchase our formulas, please reach out to us so we can find the best option for you.

Click Here For K9 Kidney & Bladder Customer Stories