K9 PRE & POSTBIOTIC FORMULAS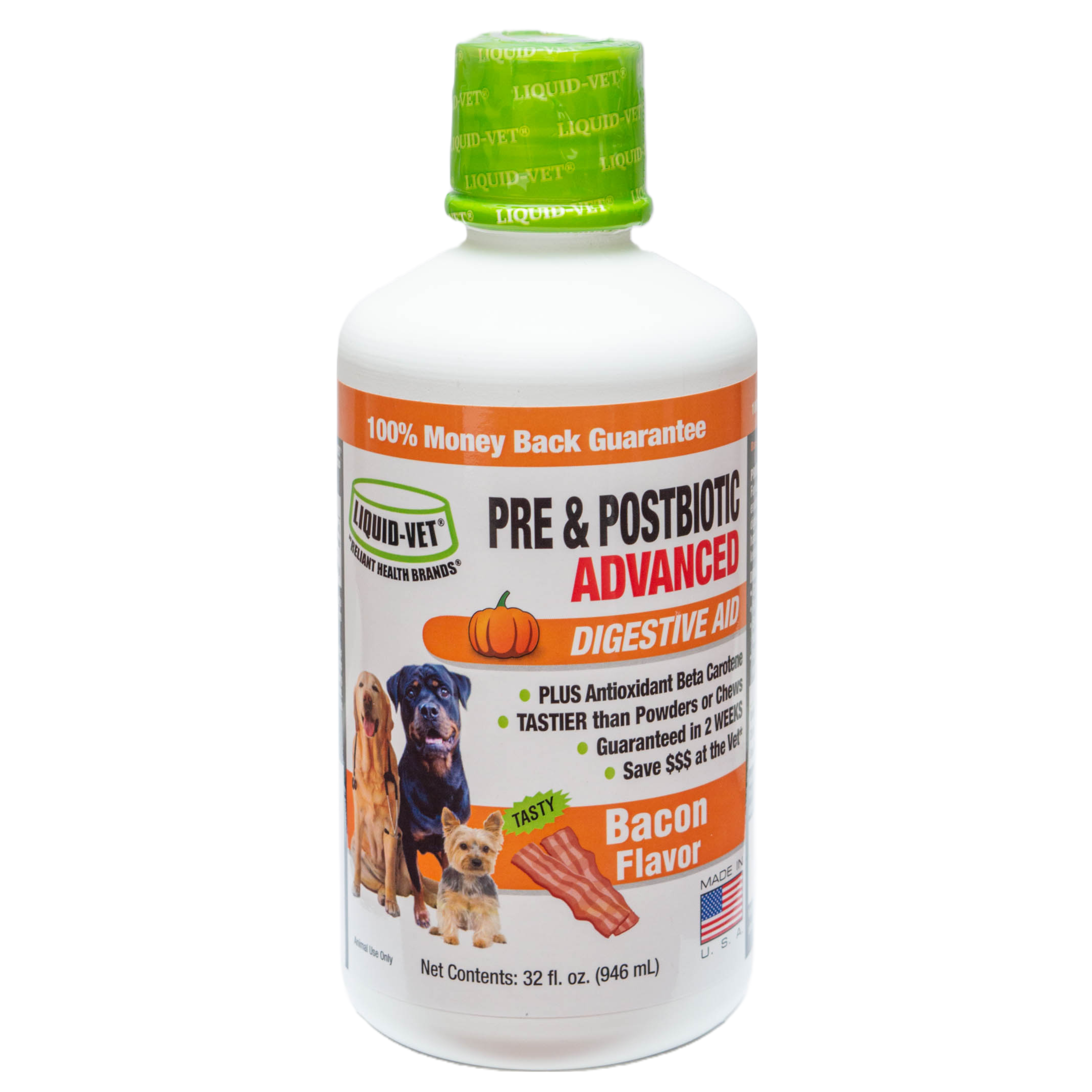 Liquid-Vet® K9 Pre & PostBiotic Advanced Formulas contain a proprietary blend of active ingredients that include high levels of Collagen, Inulin, and Galacto-oligosaccharides as well as Antioxidants found in pumpkin to ensure that your dog has a balanced digestive tract. In addition, with less risk of stomach upset and questionable shelf-life (typical with other brands containing live bacteria probiotics), you can be sure that your dog is getting the safest and best digestive support on the market. Liquid-Vet® formulas are TASTIER, EASIER TO USE, and FASTER than standard pills, powders, or chews and are the ONLY products available in a choice of natural flavors for picky pets or those pets that may have allergies to specific proteins.
Simply dose once a day during meal time with no hiding in cheese or those pill pockets full of chemicals and other unnecessary ingredients. It's that EASY!
EASIER than Pills, Powders, or Chews
TASTIER than the Rest with Pot Roast, Chicken, and Bacon Flavors Dogs Crave
LESS Risk of Stomach Upset and Shelf-Life Issues Compared to Simple ProBiotics
SUPPORTS Optimal Digestion & Overall Gut Health
Directions for Use:
For dogs under 20lbs., dose 1/2 capful. For dogs 20-50 lbs., dose 1 capful. For dogs over 50 lbs., dose 1 1/2 capfuls.
Swirl gently and then use the recommended daily dose
For max freshness, refrigerate after use and use the recommended dose daily until bottle is empty.
If using along with another one of our formulas (i.e., Hip & Joint, Teeth & Gums, Itch & Allergy, Kidney & Bladder, or Calm & Content), we suggest you split between AM and PM feedings to avoid any stomach upset.
Ingredients:
Gastrica-Vet® [A proprietary blend of Collagen Peptides, Inulin, Galacto-oligosaccharides, Saccharomyces Cerevisiae (dried fermentation)], Beta Carotene, Citric Acid, Purified Water, Sodium Benzoate, Xanthan Gum, Flavor (Bacon, Chicken, or Pot Roast)
Galacto-oligosaccharides – May help with constipation and bowel function
https://www.ncbi.nlm.nih.gov/pmc/articles/PMC2607002/
Inulin – May aid in the prevention of allergic disease
https://pubmed.ncbi.nlm.nih.gov/17092385/
Saccharomyces Cerevisiae (dried fermentation) – Can promote a healthy gastrointestinal tract and boost the immune system