Description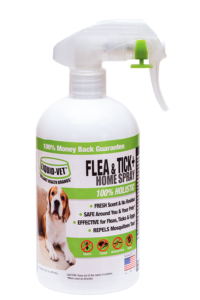 Liquid-Vet® Flea & Tick+ Home Spray is a new complement to our Flea & Tick+ topical formulas created to help protect your home from unwanted pests and guaranteed EFFECTIVE against fleas, ticks, and mosquitoes. Liquid-Vet® Natural Flea & Tick Home Spray isn't just one or two essential oils, but a balanced blend of 5 essential oils and dries quickly with NO GREASY residue leaving your home smelling great! Plus, Liquid-Vet® Flea & Tick+ Home Spray is EASY to use…simply apply uniformly to carpet, furniture, bedding, and outdoor surfaces. 
And how about safety? Liquid-Vet® Flea & Tick+ Home Spray is manufactured at our own plant located in the USA, using materials only from our qualified USA based suppliers, AND it's made with food grade ingredients so it's safe* around BOTH your family and your pets! 
100% Holistic Formula
FRESH Scent & NO Residue
SAFE For Your Family and Your Other Pets*
EFFECTIVE & Easy to Use
Made in the USA
Active Ingredients: Geraniol, Eugenol, Thyme Oil, Peppermint Oil, Rosemary Oil
Inert Ingredients: Water, Ethyl Lactate, Lecithin, Vitamin E
*When used as directed.
Flea & Tick+ Home Spray 16 fl oz. (474 mL)