Description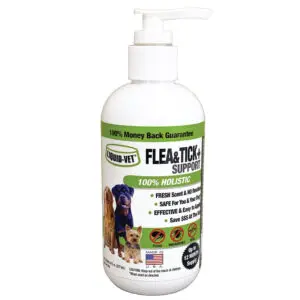 100% Holistic Formula
Made with FOOD GRADE Ingredients…Safe Around Your Human Family AND Your Pets
EFFECTIVE Against Fleas, Ticks, & Mosquitoes…Guaranteed!
GREAT Value…Up to 12 MONTH Supply in a Single Bottle!
Not a Spray That Triggers FEAR in Your Dog
Not Another GREASY Topical that Stays On Your Dog and Furniture…Dries Instantly Without Residue!
Leaves an Incredible FRESH Scent On Your Dog…No Chemical Odor
100% Made in the USA
Liquid-Vet® K9 Flea & Tick + Support Formulas help to protect your dog from unwanted pests and are guaranteed EFFECTIVE against fleas, ticks, and mosquitoes. Liquid-Vet® K9 Flea & Tick Formulas are made with a blend of natural ingredients, so have no harsh chemicals or smells and do not leave a greasy residue.
Plus, Liquid-Vet® K9 Flea & Tick + Support Formulas are EASY to apply…simply apply evenly into your dog's coat 1x/week. And how about safety? Liquid-Vet® Flea & Tick+ Formula is manufactured at our own plant located in the USA, using materials only from our qualified USA based suppliers, AND is made with food grade ingredients so are safe around BOTH  you and your pets!
Directions for Use:
For Dogs 12 Weeks and Older.
Shake gently before use.
Apply 2 – 8 pumps average depending on size of dog, and rub in evenly including tail, legs, and stomach. Avoid face and genitals.*
Repeat 1 time per week for maintenance.
For heavily infested areas, use up to 1 time per day.
Reapply after bathing or swimming.
*It is normal for dogs to get the "zoomies" (i.e. scent rolling) after application as some dogs try to hide the fresh scent of this formula.
Ingredients:
Eugenol 0.36%, Geraniol 0.81%, Thyme Oil 0.36%, Lemongrass Oil 0.12%, Peppermint Oil 0.01%, Rosemary Oil 0.01% Inert Ingredients (Water,  Xanthan Gum, Ethyl Lactate, Lauric Acid, Vitamin E) 98.33%
Eugenol:  
Repels Ticks and Mosquitoes
https://pubmed.ncbi.nlm.nih.gov/16360943/
https://pubmed.ncbi.nlm.nih.gov/25828787/
https://pubmed.ncbi.nlm.nih.gov/32417602/
Geraniol
Repels Ticks and Mosquitoes
https://pubmed.ncbi.nlm.nih.gov/19839268/
https://pubmed.ncbi.nlm.nih.gov/20836800/
Thyme Oil
Repels Ticks, Mosquitoes, and Fleas
https://pubmed.ncbi.nlm.nih.gov/28385541/
https://pubmed.ncbi.nlm.nih.gov/25828787/
https://pubmed.ncbi.nlm.nih.gov/29026857/
https://pubmed.ncbi.nlm.nih.gov/28969843/
Lemongrass Oil