K9 Itch & Allergy Advanced Formula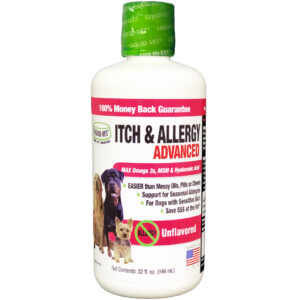 K9 Itch & Allergy Advanced Formula
32oz (946ml) Economy Size | 8oz (237ml) BOGOs/ 2-Pack Trial
Bacon | Chicken | Pot Roast | Unflavored
Description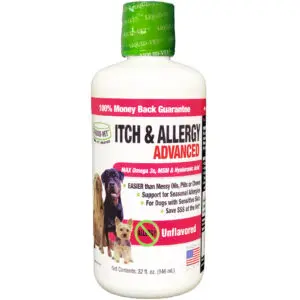 · EASIER than Messy Oils, Pills, or Chews
· TASTY Flavors Dogs Crave…Available in Chicken, Pot Roast, Bacon, & Allergy-Friendly Unflavored Option
· No Fishy Smell or Messy Pump
· Soothes Skin-Related Issues Associated with Seasonal Allergies
· HELPS Pets with Sensitive Skin
· GUARANTEED in 2 Weeks
· Made in USA…Even the Caps, Bottles and Labels
Liquid-Vet® K9 Itch & Allergy Advanced Formulas contain a balanced blend of omega 3s, MSM, and hyaluronic acid in a single dose and are TASTIER, EASIER TO USE, and FASTER than messy oils, pills, or chewable form supplements. Liquid-Vet® K9 Formulas are the only products available in a choice of natural flavors for picky pets or those pets that may have allergies to specific proteins.
Simply dose during meal time once a day with no mixing required. It's that easy!
Plus, Liquid-Vet® K9 Itch & Allergy Advanced Formulas are GUARANTEED in 2 WEEKS or YOUR MONEY BACK! And how about safety? Liquid-Vet® is manufactured at our own plant located in the USA, using materials only from our qualified USA based suppliers. 
Directions for Use:
For dogs under 20 lbs., dose 1/2 capful. For dogs 20 – 50 lbs., dose 1 capful. For dogs over 50 lbs., dose 1 1/2 capfuls.
Shake thoroughly and then dose the recommended daily oral dosage during mealtime.
For max freshness, refrigerate after use and use the recommended dose daily until bottle is empty.
If using along with another one of our formulas (i.e. Teeth + Gums, Hip + Joint, or Kidney + Bladder), we suggest you split between AM and PM feedings to avoid any stomach upset.
Ingredients:
Active Ingredients Include 653 mg Allergi-Vet® –  A proprietary blend of MSM, Omega 3s (EPA + DHA), & Hyaluronic Acid
Inactive Ingredients Include  Citric Acid, Fish Oil, Mixed Tocopherols, non-GMO Vegetable Glycerin, Polysorbate 80, Purified Water, Rosemary Extract, Sodium Benzoate, Vegetable Oil, Vitamin E Acetate, Xanthan Gum, Flavor (Chicken, Pot Roast, or Bacon)
MSM:  May improve skin quality and texture as well as help with inflammatory-related issues.
*   www.ncbi.nlm.nih.gov/pmc/articles/PMC5372953/
Hyaluronic Acid:  May increase the moisture content of the skin to support dry skin conditions.
*  www.ncbi.nlm.nih.gov/pmc/articles/PMC4213400/
Omega-3s:  May help reduce inflammation and itchiness associated with allergies.
*  https://nasc.cc/cat/healthy-fat/
*At this time, we cannot ship to Canada. If your local retailer is out of stock or if you are unsure where to purchase our formulas, please reach out to us so we can find the best option for you. 
Additional information
| | |
| --- | --- |
| Weight | N/A |
| Dimensions | N/A |
| Select Size: | 32oz Economy, 8oz BOGOs/ 2-Pack Trial |
| Select Flavor: | Bacon, Chicken, Pot Roast, Unflavored |