Description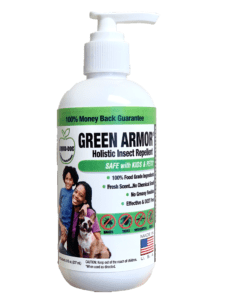 100% FOOD GRADE Ingredients…Safe* Around You & Your Family!
FRESH Scent…No Chemical Odor
NO GREASY Residue…Dries Instantly!
Effective & DEET Free…Against Mosquitoes, Gnats, and Ticks…Guaranteed!
100% Made in the USA
*When used as directed
Green Armor® Insect Repellent by Liquid-Doc® is guaranteed to protect your entire family from ALL unwanted pests including, mosquitoes, gnats, and ticks. Green Armor® is made with a special blend of several essential oils and other natural ingredients without the use of harsh chemicals like DEET. PLUS, Green Armor's quick-drying formula leaves no greasy residue on your skin, clothes, or furniture and smells fantastic.
…And how about safety? Green Armor® Insect Repellent by Liquid-Doc® is manufactured at our own Reliant Health Brands® facility located right here in Florida (100% USA Made), where we KNOW insects! PLUS, GREEN ARMOR®  by Liquid-Doc®  is made with all food-grade ingredients so GREEN ARMOR®  by Liquid-Doc® is SAFE around you, your kids, AND your pets, when used as directed!
Active Ingredients:
Eugenol, Geraniol, Peppermint Oil, Rosemary Oil
Inert Ingredients:
Water, Xanthan Gum, Ethyl Lactate, Lauric Acid, Vitamin E, Coconut Oil
Directions for Use:
For use on adults and children 6 months & older.
Shake well before use.
Dispense into hands and then apply just enough product to cover exposed skin. Rub in evenly and thoroughly, and avoid contact with eyes and mouth areas.
Adults are to apply to children per instructions. Do not apply to children's hands.
Reapply every 2 hours when outside, and reapply after swimming or bathing.