K9 Calm & Content Advanced Formula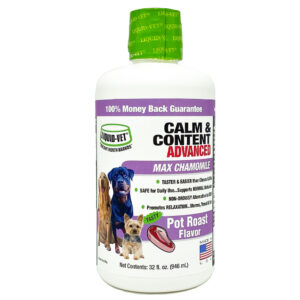 K9 Calm & Content Advanced Formula
32oz (946ml) Economy Size | 8oz (237ml each) BOGOs/2-Pack Trial
Bacon | Chicken | Pot Roast | Unflavored
Description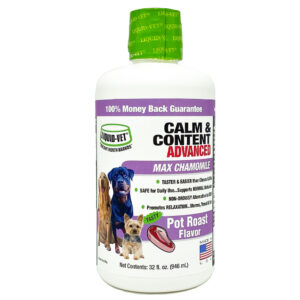 EASIER Than Chews or Oils
TASTY Flavors Dogs Crave…Bacon, Chicken, Pot Roast, & Allergy-Friendly Unflavored
SAFE For Daily Use…Supports Normal Behavior
NON-DROWSY Alternative to CBD
Promotes RELAXATION…Grooming, Travel, Vet, Weather, & Fireworks
GUARANTEED In 2 Weeks
Liquid-Vet® K9 Calm & Content Formulas are CBD free and contain high levels of Chamomile, Magnesium, L-Theanine, and MSM to help support normal behavior and promote relaxation for restless dogs. Key for stress related to grooming, travel, vet visits, weather, and fireworks. Safe and recommended for daily use to help maintain normal behavior.
Liquid-Vet® K9 Calm & Content Formulas are TASTIER, EASIER TO USE, and FASTER than pill, powder, or chewable form supplements. Liquid-Vet® K9 Formulas are the only products available in a choice of natural flavors for picky pets or those pets that may have allergies to specific proteins.
Simply dose at meal time once a day with no mixing required. It's that easy! Plus, Liquid-Vet® K9 Calm & Content Formulas are GUARANTEED in 2 WEEKS or YOUR MONEY BACK! And how about safety? Liquid-Vet is manufactured at our own plant located in the USA, using materials only from our qualified USA based suppliers.
Directions for Use:
For dogs under 20lbs., dose 1/2 capful. For dogs 20-50lbs., dose 1 capful. For dogs over 50 lbs., dose 1 1/2 capfuls.
Swirl gently and then use the use the recommended daily dose.
For max freshness, refrigerate after use and use the recommended dose daily until bottle is empty.
If using along with another one of our formulas (i.e. Hip & Joint, Teeth & Gums, Itch & Allergy, or Kidney & Bladder), we suggest you split between AM and PM feedings to avoid any stomach upset.
Ingredients:
Tranquila-Vet® [A proprietary blend of MSM, Magnesium Citrate, L-Theanine, Matricaria Recutita Extract (Chamomile Oil)], Citric Acid, Purified Water, Sodium Benzoate, Vitamin E, Xanthan Gum, Flavor (Chicken, Pot Roast, or Bacon)
Additional information
| | |
| --- | --- |
| Weight | N/A |
| Dimensions | N/A |
| Select Size: | 32oz Economy Size, 8oz BOGOs/ 2 Pack Trial |
| Select Flavor" | Bacon, Chicken, Pot Roast, Unflavored |